Description
Johnny Reb Kings Canyon Jacket for Men
High quality soft and durable black leather
Four larger external pockets
Satin lined
Antique brass
YKK heavy duty full zip closure
Cross zip function
Sleeve zip ventilation
Belt strap waist closure
Two discreet internal pockets
Double stitching gives extra strength
Read Less
We offer a range of flexible payment options including Afterpay and Zippay
Read more
Specifications
Mens's Jacket & Vest Size Chart
See chart and diagram below. Chest & Waist measurements given are full circumference.
| | | | | | | | | | |
| --- | --- | --- | --- | --- | --- | --- | --- | --- | --- |
| SIZE CHART | S | M | L | XL | 2XL | 3XL | 4XL | 5XL | 6XL |
| Chest - Inches | 38 | 40 | 42 | 44 | 46 | 48 | 50 | 52 | 54 |
| Chest - CMS | 96 | 101 | 106 | 111 | 116 | 121 | 127 | 132 | 137 |
| Waist - Inches | 36 | 38 | 40 | 42 | 44 | 46 | 48 | 50 | 52 |
| Waist - CMS | 91 | 96 | 101 | 106 | 111 | 116 | 121 | 127 | 132 |
| Length - Inches | 21.5 | 22 | 22.5 | 23 | 23.5 | 24 | 24 | 24.5 | 24.5 |
| Length - CMS | 54.5 | 55.5 | 57 | 58.5 | 60 | 61 | 61 | 62 | 62 |
| Arm Length | REG | REG | REG | REG | REG | REG | REG | REG | REG |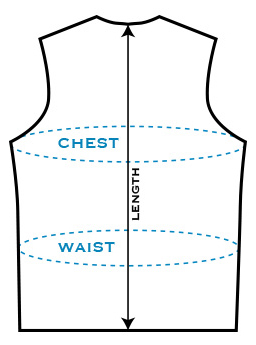 | | |
| --- | --- |
| SKU | JRJ10008 |
| Brand | Johnny Reb |
| Shipping Weight | 0.5000kg |
| Shipping Width | 0.320m |
| Shipping Height | 0.120m |
| Shipping Length | 0.390m |
| Shipping Cubic | 0.014976000m3 |
FAQ
Most of our footwear is made to USA or European sizing.
USA sizes for Ladies are the same as Australian.
USA sizes for Men are about half a size smaller than Australian;
if you normally wear an Australian men's 8½ then your USA size will most likely be 9.
Your best guide is your normal Australian shoe size and look in a good pair of dress shoes.
If you are still not sure then a local shoe shop will always be able to size your feet for you.
Please refer to the Size Guide for more information.
As a last resort, if you are still unsure of your size, then please do the following:
Put a blank piece of paper on an uncarpeted floor with the short edge against the wall
Stand bare foot on the paper with your heel touching the wall
Have someone else make a pencil mark on the paper at the end of your longest toe
Measure the distance in centimetres between the pencil mark and the edge of the paper that was touching the wall
Refer to the Size Chart tab to find the size corresponding to the length of your foot
This has to be done very accurately as there are such small differences between sizes.
The Size Chart has been prepared with the best available information but does not guarantee fit
The letters represent width.
For ladies, we stock B, C, M, W
B and M represent a medium or more narrow width
C and W represent a wider width
For men, we carry D, EE, EEE, EW, W
D represents a more narrow fit
EE, EW and W stand for a wider fit
Occasionally we stock EEE, which is very wide
Just about all our men's footwear is supplied in one of the wider sizes
Please be careful to choose the size you think is right for you.
When trying them on for the first time, do it on a carpet so as not to damage the sole.
It sometimes helps to put a plastic bag over your foot to more easily slide into a new pair of boots.
If they feel comfortable but firm on the foot then that should be OK as the upper will relax.
In case the boots feel uncomfortably tight across the top of your foot, there are products available to help leather stretch.
Don't worry if there is slippage at the heel as that is normal in a new pair of boots.
As you wear them in and the boots relax to the shape and movement of your feet, that slippage goes away
If the boots feel too wide, then you can look at getting an insole from a good boot repairer or shoe shop.
However, if your toes are touching the end of the shoe or there is too much gap at the heel then you probably need to get a different size. In that case, you will find a returns form with your new boots explaining how to return them for exchange. We will happily send you another pair of a different size of your choosing, as long as the product you return is in the same good condition as you received them, in the original packaging and all inside a large outer envelope for protection.
Western Boot Barn is 100% online.
All orders are shipped from our warehouse in Sydney, Australia.
We do not have a place where boots can be tried on before buying.
You will find good information about sizing through this website.
We do have a simple Returns Policy, in case boots need to be sent back for any reason.
We recommend Collonil shoe care products, which we stock to match the boots we sell and offered as you go to checkout.
Please look to buy a boot jack to help better take your boots off and save from having to push down on the heel of the boot with your other foot.
If your boots get wet then it is important to not put them in front of a heat source to dry as this will damage the leather.
Buy boots fit for purpose. So, just as you wouldn't drive your Ferrari across a ploughed field, your full leather dress boots should not be used for working in the garden.
Well cared for boots will last for years, providing excellent long term value.
Orders placed before midday Sydney time are shipped on the same business day, otherwise the following business day.
We ship with Australia Post eParcel service and International Express.
Our prices include delivery within Australia and New Zealand.
Customers in other overseas countries pay a shipping charge which does not cover local duties, fees and taxes charged by country of destination.
We do not ship any exotic boots to countries outside Australia.
You will be notified when your order has been dispatched from Sydney.
All orders are sent with a returns form which explains what to do in case you need to send boots back for exchange or full refund.
The boots have to be in the same condition as you received them and properly packed in their original packaging with tags attached.
You fill out the returns form, pack it with the boots and mail them to the address given on the form.
You are responsible for the cost of postage back to us.
We will send an exchange to you free of charge if you are in Australia or New Zealand; postage charges apply to customers in other countries.

The Size Chart has been prepared with the best available information but does not guarantee fit. It is best to order your normal ladies shoe size.
Reviews
Johnny reb jacket

By:

Rick meyers

on 14 July 2020

Superior service, excellent quality




(5)