Reviews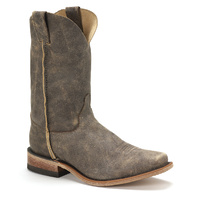 BR720
Justin Weatherford Western boots

9 January 2021

The softest leather I've ever had ,no breaking in required. I love the soft upper part of the boot too its not bulky like other western boots,so they fit under jeans no problem. My favourite boots so far, and I have fair few pairs of boots.




(5)
View Product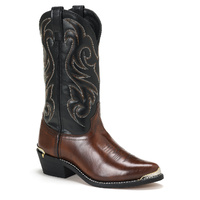 28-2464
Awesome

4 January 2021

They are spectacular. The picture and real deal are exactly the same. For my first pair of riding/cowboy boots they are comfortable right from the get go. Pricing is around average for boots but on the low end for such a nice pair. The shaft (black section up your shin) is wide which folds over onto itself a bit and in future crease and ruin the design but It serves its purpose perfectly and my foot goes in smoothly enough. Fantastic product highly recommend




(5)
View Product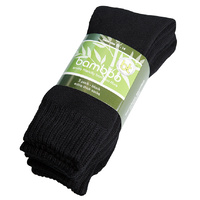 BT-ET3P
Bamboo socks

25 December 2020

Very soft nice and thick very comfortable. If you're a size 10 get the size 10and up not 6to10 .




(5)
View Product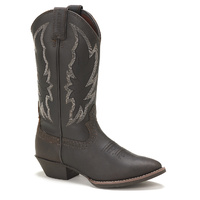 L2720
Incredibly tight

20 December 2020

I've owned these boots for over a year now and have decided to buy a pair of Ariat's instead. I would recommend buying a size larger than what you normally wear as these are unbearably tight, when I first got them I couldn't even get my foot into them, I should have returned them then and there. Since then I've tried various methods over the year to stretch them, they've given a little bit but not enough to be comfortable so I only wear them on occasion and then put them away for months. On top of that, for the price of them they're made in China, you can see glue near the heal, they have a fabric inside which I feel contributes to their lack of wanting to truly stretch and the quality of them feels greatly inferior to other brands for the same cost. They don't look or feel like they would actually stand up to long days in the paddock, maybe they'd be good for people who want a pair of cowboy boots purely for fashion and if you have an incredibly narrow foot. It's quite a shame because I chose Justin boots based on reviews I'd seen and thought I'd done my research but I don't feel the quality of these boots at all Reflect the price tag.




(2)



Western Boot Barn Response
Thank you for your comments. Yes, if the boots did not feel right when you first got them then it would have been best to return them for exchange or full refund. All boot styles have different shapes and do not always suit all feet. As you have decided to persevere with them but find them uncomfortably tight in the width please try this trick - make a solution of 60% methylated spirit with 40% water and spray that onto the tight leather while the boots are on your feet then let them dry while keeping them on; this will help the leather relax. If still tight after drying, then do it again, though once is usually enough. This works for width not length. Otherwise, boot repairers usually have equipment to stretch boots in the width. As for country of manufacture, the large majority of American boot brands started to shift their manufacturing offshore to China in the late 1990's. Generally speaking, their standards of quality remain very good despite not being made in USA. As things stand, those brands are now beginning to bring back more production to USA and Mexico. You will find some of our Justin boots are made in USA. I hope this helps.
View Product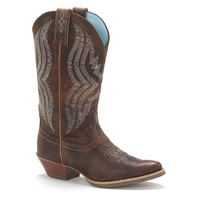 SVL2002
Waste of money

20 November 2020

Cheap cr*p! On the larger side of sizing compared to other brands. Purchased my standard size of 8.5, and they were a big fit. Then after only 1 weeks wear the leather stretched so much I had to wear extra thick socks for boots to even fit any more. I purchased a bottle of waterproofing spray and treated accordingly, which made no difference. Boots had fallen apart and were completely unwearable by the 4 month mark after purchase




(1)



Western Boot Barn Response
Hi Jess, I am sorry you have had this experience with your boots but it is difficult to understand. Leather will stretch if tight but not if you already find them a big fit as new. You could have taken advantage of our easy returns policy and exchanged them for another size or style when you first received them if they were too big for you. The conditioning lotion is made to be water repellant.
View Product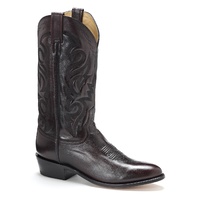 DP2112R
Review Mens Dan Post Milwaukee DP2112R Cowboy Boot

By:

Kevin

on 15 November 2020

Super fast delivery : highly recommend WESTERN BOOT BARN Perfect fit straight outta the box Traipsed around the city for an Event all day No problem what so ever Great Boot Highly recommended




(5)
View Product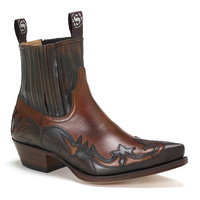 SE4660BFM
Mens Sendra 4660 Boots

By:

Norm Swanwick

on 6 November 2020

I already owned a pair of Sendra boots which I previously purchased direct from Sendra in Spain as I didn't realize Boot Barn held stock. I am a fan of Sendra boots as they are well made and have a great variety of styles. I can recommend the Western Boot Barn for excellent service and quick delivery as it was only a couple of days from placing my order that I received the boots. I would not hesitate in purchasing further boots from the Western Boot Barn.




(5)
View Product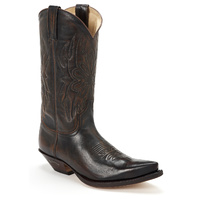 SE6848
Very very happy

3 November 2020

After a few years deliberating, I took the plunge and bought a pair of these Sendra. Why I waited so long I don't know. These are beautiful boots that fit perfectly. I'm so very happy I bought them. Thank you for your exceptional service.




(5)
View Product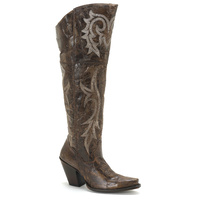 DP3709
Best dress boots I own!!

By:

Nina Sandral

on 26 October 2020

True to size! Beautiful dress boot! Staff were so helpful when I was trying to find these boots!!Thanking you.




(5)
View Product