Western Boots: Different Styles For Women
If you want a new pair of boots for the winter or summer then it's definitely worth taking a look at Western boots and the different styles that exist for women. They can be very practical but also highly fashionable: this depends on the style of Western boots you opt for. So to inform you on this we'll be telling you more on the different styles Western boots for women.
Fashion Boots
The biggest difference in style between Western boots is that between traditional boots and fashion boots. The traditional boots are obviously the kind of boots that are originally meant to be worn by people living in on a cattle station or even simply outside the city, and are meant for working or riding horses. When you do have to do a lot of outside work, or simply love the traditional boot styles, then picking these is a good option.
Although as a woman you might be more drawn towards the fashion boots, these are not necessarily practical and are mostly made to look beautiful. These boots might have a lot of embellishments, be made of exotic patterned leather or even have some higher heels on it.
We've got a wide range of fashion boots perfect for women, with beautifully embossed leatherwork making them perfect for wear outside the farm.
The Classic Western Boot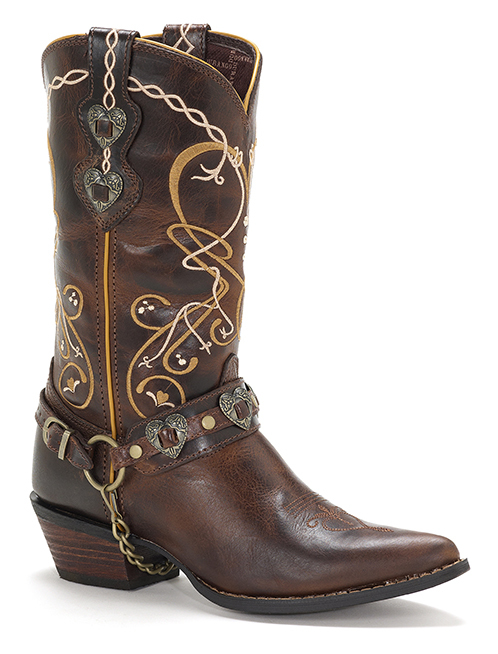 These are the most basic kind of western boots, they are simple and straight, but do have an iconic feel to them. This is also the kind of shoes that are used as working boots, although you do need to look for specific working boots if you were to want that.
These boots are made for shows, they tend to have a little heel, come up a little higher than the classic western boots and are highly embellished. They are meant to be a fashion statement and draw attention, so they can be ideal if that's what you want to do with your style boots
English/Equestrian Boots
We stock a range of boots meant just for riding: these are lighter, smaller boots meant for riding over fashion. Our equestrian boots come in both a Western and English style, as well as a modern riding boot.
Work and Roper Boots
These sturdy leather boots are meant to be worked in, but they are generally more fashion-forward than the classic boot. They do often have decorative stitching or embellishment. They have a shorter heel, a wider toe and are shorter than the classic boot. Roper boots were originally designed to be used when working with horses: they have a wider sole and are generally a lot lighter than the classic boot.
Biker Boots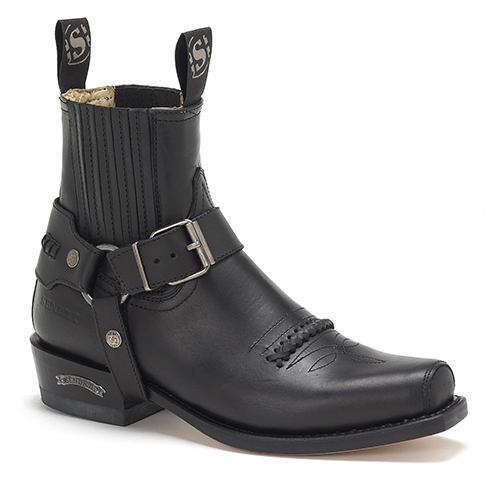 For the motorcycle riders among you, you'll love to take a look at our range of biker boots. These fashionable boots have a rebellious flair and are perfect for a long day on the road. Black, leather, studded: we've got them all!
Which kind of toe should I get?
There are a few different categories within western boots when it comes to the toe. The traditional toe which is a tapered, this shape is the most known for western boots and is somewhere in between a round and a pointed toe. Other options are having a full round toe, which is probably the most comfortable kind of toe to have and is perfect for walking around in a lot. You can also opt for a pointed toe, this is not the most practical option, but it has been a popular shape for long. A square toe isn't very practical toe, especially not when you are actually working, but it can make a great fashion statement. A broad square toe can be very comfortable on the other hand, since your toes have space to move, and it is a great option when you wear the boot for an extended period of time.
As you can tell there are quite a lot of different styles of western boots you can choose between when you want to buy yourself a pair of boots. So take your time to look at all the different styles for women out there and pick the pair of western boots that is perfect for you.